T
he aim of this
European Commission funded project
is to
integrate a large amount of environmental data
provided by the National/Regional Environmental Agencies and other public and private environmental stakeholders involved. This is necessary to
answer to the requests for environmental monitoring and reporting
requested by the European, national and local policies.
This will be achieved through the harmonisation and integration, within an operational framework, of existing services resulting from previous European initiatives (funded projects, good practices, EU/national/local experiences) and it will allow overcaming of cross-border/languages barriers.
eENVplus provides not only the ICT infrastructure but also the documentation and support to ensure delivery of an operational infrastructure and which can become profitable, based on a well-defined organisational model and a tutored training framework.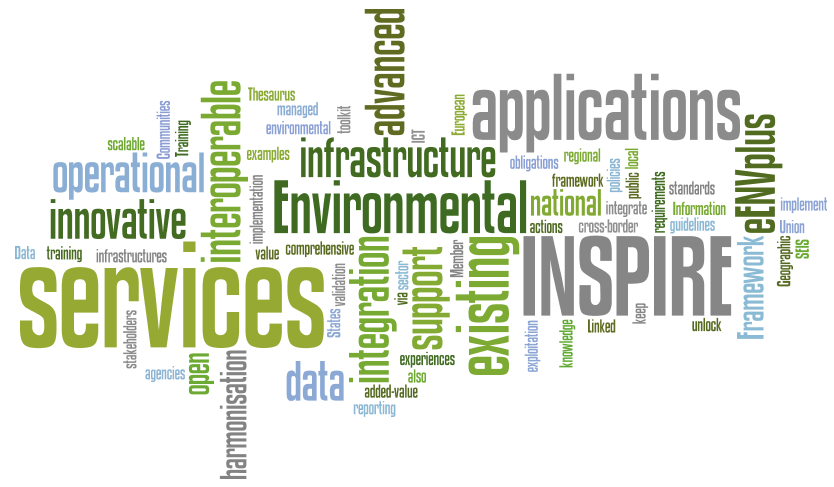 European projects background
eENVplus successfully exploits the combined skills and experience of the partners using a well-proven overall project methodology based on phases, mile-stones, work packages, tasks and deliverables.
The project development will be articulated according to a cyclic implementation approach typical of agile software life-cycle methodologies."

Openness

The project maximises openess through:
Extensive support for interoperability protocols.
Software infrastructure based on open standards.
Modular/scalable/compliant service oriented architecture.
Ensuring interoperability with EU directives (e.g. INSPIRE).
Available as Free and Open Source Software.
Providing data in an open form, in line with the objectives of the Digital Agenda for Europe (DAE).
Impact

eENVplus impact factors:
Make public geographic information accessible, reusable, harmonised and validated (against the relevant INSPIRE Data Specifications).
Ensure use and re-use of interoperable added value eEnvironment services, in line with the DAE.
Increase the efficiency of the public sector on environmental reporting obligations.
Contribute to the growth of the private sector (particularly SMEs) with added value services for new businesses.
eENVplus is addressed to a community of technical and non-technical stakeholders:

Administrations and public bodies/agencies at different levels
Providers of environmental services
Providers of IT services
Research groups
Non-Governmental Organisations (NGOs) and Citizens
The exploitation of the project outcomes is addressed to:

National Environmental Authorities (National Environmental Agencies, EIONET, Environment authorities at EU level)
Local and Regional Environmental Authorities (starting from partners' networks)
Thematic Communities (European Topic Centers, INSPIRE National Contact Point, etc.)
Private Sector and SMEs